Regular price
Sale price
Rs. 375.00
Unit price
per
Sale
Sold out
Share
View full details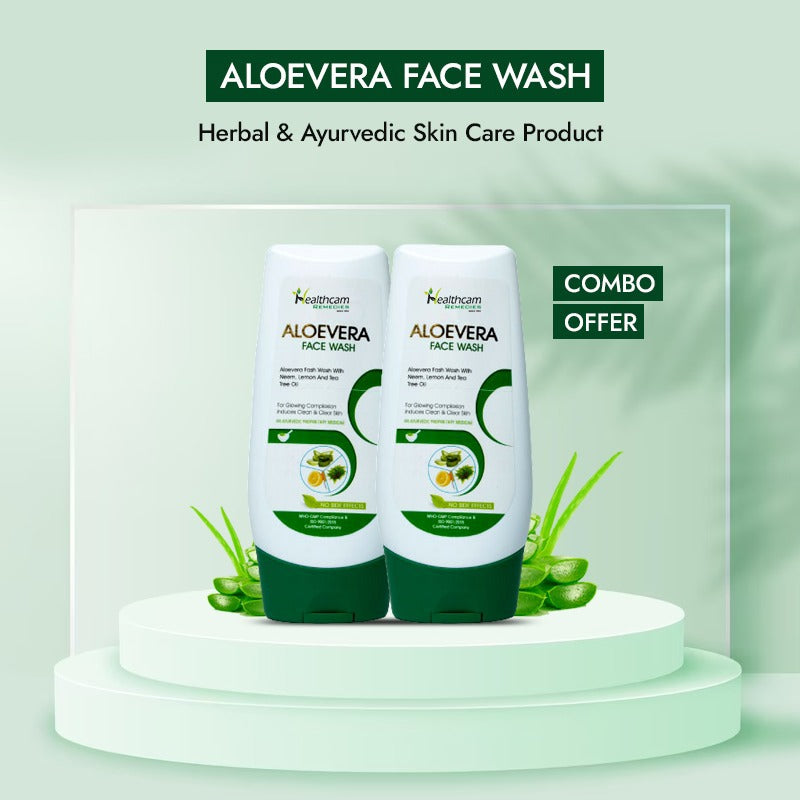 Get glowing skin with our Aloe Vera Face Wash Combo Offer - Buy 2, Get 1 Free!
Healthcam Remedies Aloevera Face Wash – Herbal & Ayurvedic Skin Care Product which is natural and has all the elements that can shower your skin with hydration and glow.
Deep Cleansing Magic: Say goodbye to excess oil and dirt as our Aloe Vera Face Wash deeply cleanses your skin, leaving your face feeling rejuvenated and fresh.

Nourishment at Its Best: It's not just about cleansing; our face wash also pampers your skin with nourishment, ensuring a radiant and healthy complexion.

The Cool Moisturizing Touch: Experience the soothing and moisturizing effects of Aloe Vera, keeping your skin not only refreshed but also wonderfully hydrated throughout the day.
An Ayurvedic face wash is a natural and holistic skin care product that draws its inspiration from Ayurveda, an ancient science of medicine that originates in India. Ayurveda places a strong emphasis on balance and harmony, both in the body and the skin. Ayurvedic face washes are designed to cleanse, nourish, and rejuvenate the skin using traditional herbs and natural ingredients, in alignment with Ayurvedic principles.

The benefits of Healthcam Remedies Aloe Vera Face Wash:

Hydrates the skin.
Soothes and calm
Treats acne and scars.
It has anti-ageing and anti-inflammatory properties.
pH balanced
Antiseptic nature.
Having smooth, glowing, and radiating skin is the dream of every person. The skin should be free from acne, scars, and any other marks. But due to our hectic schedules we often neglect to care for our skin which can in the long run cause severe skin issues. The polluted environment and ill eating habits are the major root cause that favors the emergence of skin issues which require a lot of time to rejuvenate. We head for different skincare ranges but it is to be noted that chemical-based skin essentials are only meant for immediate results and the majority of the time it can lead to worsened skin health. But the question is which skincare regime is best, effective, and at the same time affordable. Yes, it's Ayurveda! Which offers an herbal-based formulation that naturally heals skin health without any side effects.