Regular price
Sale price
Rs. 525.00
Unit price
per
Sale
Sold out
Share
View full details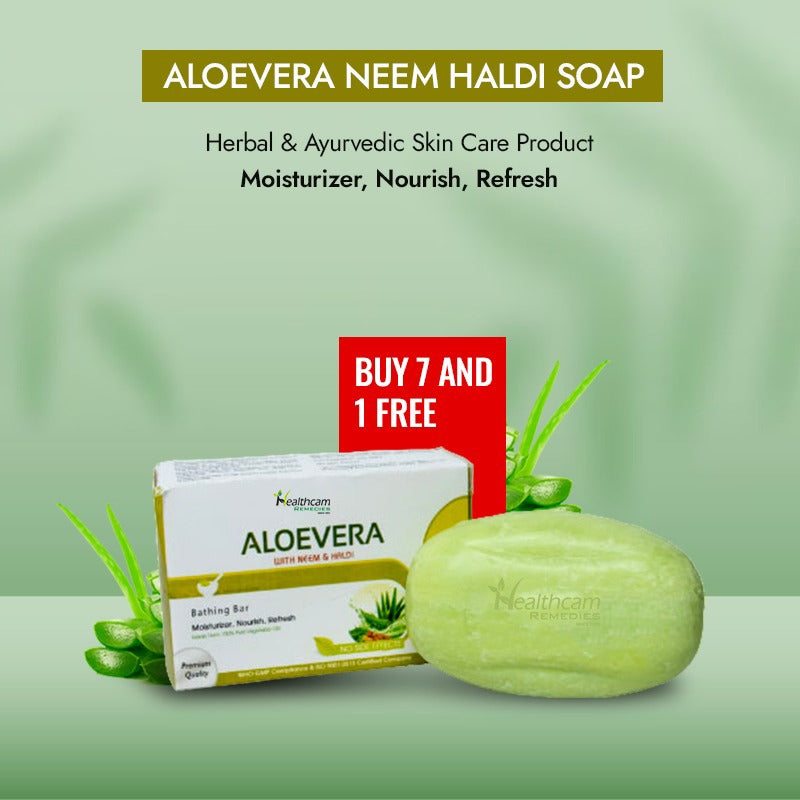 BUy Healthcam remedies Aloe Vera, Neem, and Haldi (Turmeric) Soap Combo Offer - Buy 7, Get 1 Free!

Enriched with the goodness of Aloe Vera, Neem, and Turmeric, this natural and Ayurvedic product is your skin's best friend.
Ayurveda, the ancient medical science, is recognised and known for its herbal treatment, which is solely based on suppressing the root cause of the disease or infection to prevent recurrence.
Choosing Healthcam Remedies Aloevera Neem Haldi Soap is wholesome because of the properties of three magical and effective ingredients, i.e., aloe vera, haldi, and neem.
Ayurveda places great emphasis on natural remedies and herbal ingredients for skincare. From an Ayurvedic perspective, using herbal-based soaps for skin care can be beneficial. Ayurvedic herbs like neem, turmeric, aloe vera, and sandalwood are often incorporated into soaps for their potential to provide benefits like

Balance doshas
Cleanse the skin.
Address specific skin issues.
However, the effectiveness of these soaps may vary depending on your unique dosha constitution and skin type. It's essential to choose herbal soaps that are suited to your individual needs.

How can this herbal-based soap by Healthcam Remedies, infused with herbs, help heal the skin?
The advantages include:
moisturizes the skin
Provides hydration
Remove blemishes
Contains antioxidants that may help combat skin ageing.
Can promote wound healing and reduce inflammation.
Acts as a natural astringent and purifies the skin.
May help with skin conditions like eczema, psoriasis, and rosacea.
It helps in controlling excess oil production, making it suitable for oily and acne-prone skin.
Promotes an overall healthy and radiant skin tone.
The sedentary lifestyle and hectic schedule have made people more careless about their skin. In an attempt to get clearer and smoother skin, people unknowingly, without any verification, opt for chemical-based products, which in the long run will only worsen the skin condition. Following remedial measures that pop up on the internet won't make up for your skin. It is mandatory that one should consult and take advice from healthcare experts before opting for any of them in their life.